TYPE THIS INTO YOUR EMAIL..... DFMJJM@BELLSOUTH.NET

Beginning Jan 1 2017 PRICES FOR MY PUPS START AT $1000 ..all deposits recieved BEFORE Jan 1 2017 will be honored at OLD prices.PHONE #931-389-9565 I DO NOT RECIEVE TEXT MESSAGES>>> NIGHTS ARE USUALLY BEST FOR PH CALLS..PLEASE NO MONDAY NIGHT CALLS>>>I"M PICKIN BLUEGRASS MUSIC EVERY MONDAY NIGHT...I'M HERE BUT DONT ANSWER THE PHONE
Feel free to email me or call IF you are serious.I'm OLD,getting a little bit grumpy and life is getting too short for foolishness..My number is 931-389-9565 > NO TEXT.. PLEASE DO NOT CONTACT ME TO ASK ABOUT OTHER PEOPLES TERRIERS OR BREEDING practices. I WILL GIVE YOU NO OPINIONS.I have a whole different way of doing things than most of the other breeders that have gotten on board in the last few years....SO PLEASE DONT ASK.About all you have to do is look at the size of most of the others to SEE where I'm coming from.If a BIG STAFFY-PITT type terrier is what you want,.... call them.
I am away from the phone most days after 8 AM.Most of the time nights are better for me to recieve ph calls.Emails are usually easier and faster for contacting me.
I have only five Patterdale/fell bitches now...so to get one of my pups there will be a wait.You WILL have to get on the waiting list.IF YOU CANT WAIT PATIENTLY DO NOT SEND $$
I KEEP A 4 month to a year waiting list for pups REMEMBER IF YOU CANT WAIT FOR A PUP DO NOT SEND $$... A DEPOSIT is required to hold pups NO EXCEPTIONS unless you have purchased from me before...I do not hold ANY pups til I'm HOLDING a deposit... Balance to be paid in full before puppy leaves my Kennel. 2017 PRICES START AT $1000
REMEMBER THE BEST THINGS IN LIFE ARE FREE>>>>BUT THE NEXT BE$T THING$ ARE U$UALLY VERY EXPEN$IVE..Money wont buy happine$$..but it will buy Patterdale$.
Mail DEPOSITS to
David Mason
4795 Hiway 64 E.
Wartrace,Tn 37183

BELOW
ME & APTOVKA OLEG from Russia.... came here in AUGUST 2014 to pickup his Patterdale "MASONS BELLE" By ARNIES CLONE out of Masons Peanuts...Now dont tell me its TOO FAR to come get one. He handled ALL paperworK for shipping & etc.A very nice man has been waiting patiently since last November to get one of my pups.
THANKS Oleg its been a pleasure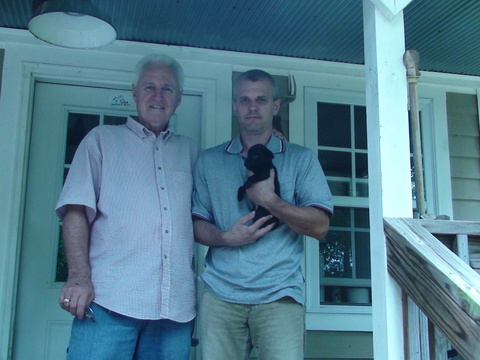 ABOVE PICTURE of ME & APTOVKA OLEG from RUSSIA

I am away from the phone after 8 AM most mornings. Night calls are better for me.Emails are easier for contacting me most of the time
YOU WILL HAVE TO TYPE MY ADDRESS INTO YOUR EMAIL TO SEND
dfmjjm@bellsouth.net
TYPE THE ADDRESS BELOW INTO YOUR EMAIL ADDRESS BOOK just clicking it WILL NOT send me an email
DFMJJM@BELLSOUTH.NET PH# 931-389-9565 NO TEXT I have an answering machine but DO NOT USE IT
THE MOST DESTRUCTIVE FORCE IN THE WORLD IS GOSSIP...thats about all chatlines are.I dont use them myself..... Just remember what the old politician told the newspaper editor. "I don't care what you say about me, just so you spell my name right.".
David Mason
4795 64 E
Wartrace TN 37183
Ph 931-389-9565

WHEN YOU THINK ABOUT IT...ITS NONE OF MY BUSINESS WHAT OTHERS THINK ABOUT ME....WHAT MATTERS IS WHAT DO I THINK ABOUT MYSELF......Ive seen lots of folks come and go over the last twenty something years.Most of em were out to prove something,but didnt last long enough to do it.
CHATLINES ARE FULL OF MORE MANURE THAN A LUSH COW PASTURE IN THE SPRINGTIME...Think about this..
" But I say unto you, that every idle word that men shall speak, they shall account thereof in the day of judgment. For by thy words thou shalt be justified, and by thy words thou shalt be condemned."
Matthew 12:36,37.